Help!!! My drink is on fire!!! Having fire shots in Playa Del Carmen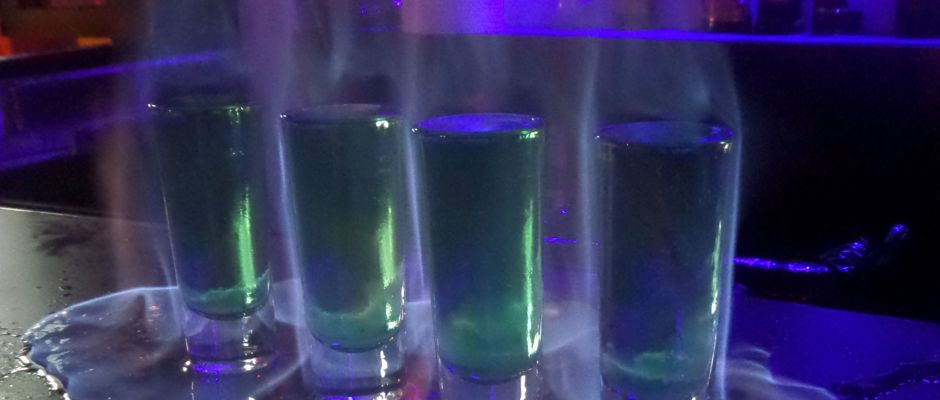 Update July 2015. This bar has closed and the place it was in is being remodeled. We will see if it opens in a new location and will let you know.
If you want to try something different and fun in Playa Del Carmen why not try fire shots. Anytime a drink is on fire it is pretty exciting and we have a place for you to go where they have 11 different shots that will light on fire for you.
The Shots Bar or actually Shots Factory as it is officially named sits on the corner of 12th Street and 1st. Avenue amid all the other clubs and bars. This small bar can be a fun place to start your evening or as a place to spend your evening dancing a little, people watching and having some fun drinks. The bar has a small place to dance and seating at the bar and some tables.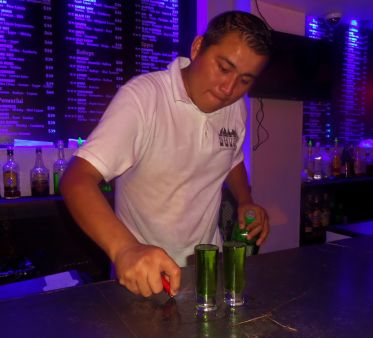 If you decide to have some shots that they light on fire, be prepared to grab a straw and suck it down while it is on fire. That is al part of the fun and you will not get burned doing it. Some of the alcohol burns off so they are not a strong but of course done have too many. Shots start at 39 pesos and most are that price. It is definitely worth the entertainment factor.
When you got to the bar there is a large menu on the wall of all the different shots. They are categorized by ones they light on fire, exotic shots, sweet shots, energy shots and a few other categories. The bar tenders really know how to entertain you and are good mixologist. Make sure you take your camera and a tip for the bartenders and have  a great time!
For information on other bars and where to go in Playa Del Carmen be sure to check out our Bar Guide here.