Have you been to the "NEW" Blue Parrot?
Not just a night club anymore!!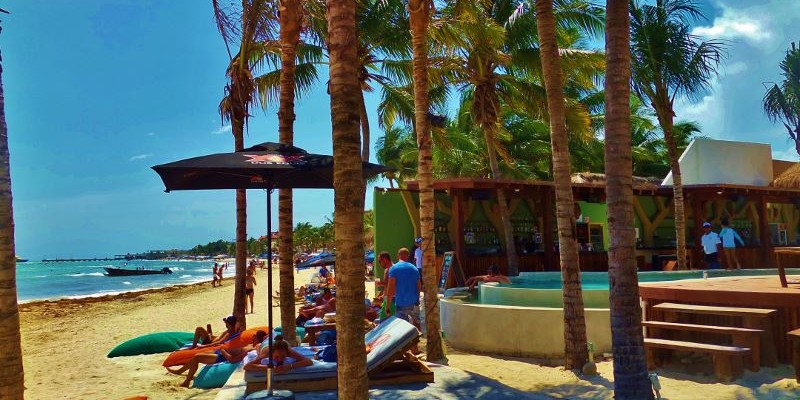 Blue Parrot Club, Bar, Restaurant, and Beach Club
Update: The Blue Parrot is now closed as of January 2017
The Blue Parrot has been known in Playa Del Carmen as a beach bar/nightclub for a while but this is all changing. There is a "NEW and IMPROVED" Blue Parrot. It has been totally renovated and looks much nicer now and offers many more services as it transforms into a beach club, restaurant and event space.
Important Update: The Blue Parrot is currently closed due to a shooting spree at the closing party of BPM on January 16th 2017.
The Nightclub and Bar
Don't worry if this beachfront club was one of your favorites to visit. It is still open so you can dance under the stars and palm trees while looking over the ocean. The Blue Parrot is open Wednesdays-Sundays from 10:00pm-5:00am for the nightclub.
Cover for the Blue Parrot is free on Wednesday and Thursday nights. Friday and Saturday is 120 pesos.
The Restaurant at Blue Parrot
This is the real metamorphosis here! Who would expect a nightclub to offer such good food! Watch out other beach clubs because this new option is going to give you some competition. Stop serving up watery ceviche and bad sandwiches, there is a new player in town and you are going to have to step up your game to keep up with the Blue Parrot! This menu and restaurant option should be a big draw for here. Even if you don't care to go to the beach, check out the restaurant as a destination in itself.
If you doubt us, just look at the photos below! Below are grilled shrimp tacos with paprika aioli sauce and caramelized onions, rib eye tacos with Edam cheese, burnt chilies, onions and grilled cactus, and a ceviche with tropical fruits.
We have been here several times and the food is consistently good! that is a great thing because these are the best shrimp tacos in Playa and we send people here all the time to try them and people get back to us and confirm their excellence!
Also for you burger lovers there is an excellent lamb burger. It is so good we added it to our Hamburger Guide to Playa!
The menu is much more gourmet then you might expect and they are trying to do as much organic as possible.The menu was created by Chef Pavel Ojeda and Chef Isabel Lopez. They created the menu with a passion for mother nature and are part of a new generation of chefs that are conscience about the environment and personal health.
Here are some basic guidelines for prices. Breakfast 90-110 pesos. Taco plates like pictured above, 135-145 pesos. Main plates or large plates, 145-200 peso range.
Blue Parrot Restaurant Hours
The restaurant is open from 10:00am-6:00pm everyday. On Friday nights it is also open from 6:00pm-10:00pm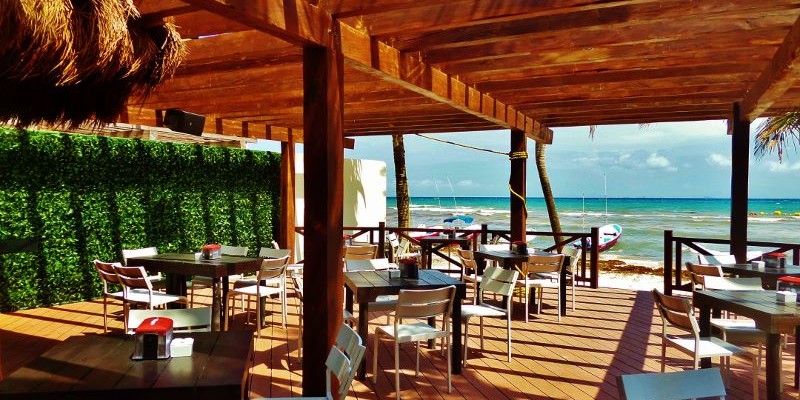 Beach club at Blue Parrot
Looking for a place to chill on the beach in the center of Playa that just happens to have good food? The beach club is open from 10:00am-6:00pm daily. There are beach chairs and lounges along the beach front. There is a small splash pool for taking dips to cool off (not for swimming) with a few chairs around it. On one side you have the bar and the other side is the restaurant. In the back of the beach club there are full massage services. Full dive shop is also available on the premise.
The price for the beach club is a 300 pesos consumption per person. With a food menu like the one they have, that will be an easy and tasty decision.
Blue Parrot Event Space
Are you looking for a beach wedding location or event space? The "new" Blue Parrot has a large palapa (thatched roof building) on the backside of the property. This is great because it can give cover from the sun and occasional rain. The space is capable of hosting 2800-3000 comfortably and even more people for music events.
If you are looking for events to attend in Playa as well, see what is going on here because they plan on offering events for locals and anyone in Playa like movie nights, live music and parties.
You can check out their website here: http://www.blueparrotplaya.com/
Location map
Blue Parrot is at the end of 12th Street and the beach.