El Jardin Restaurant-Garden setting, good food and good prices!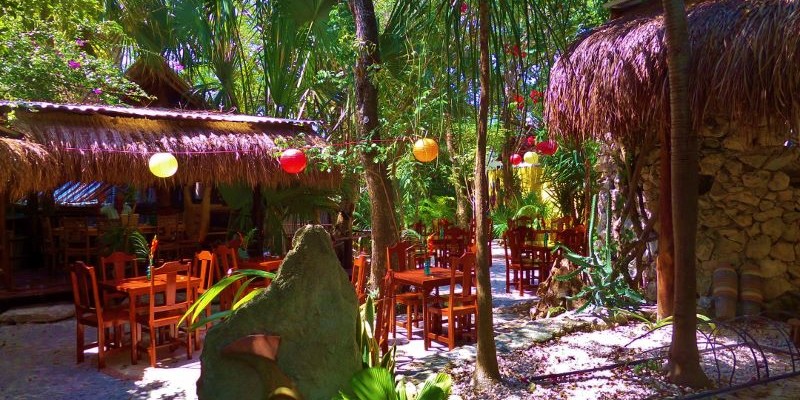 El Jardin Restaurant-Garden setting, good food and good prices!
El Jardin Restaurant is new in Playa Del Carmen and already off to a good start. They lovingly refer to it as "Yucacheca cuisine" because the Yucatecan chef and one of the owners who happens to be a chef as well is Czech. They have a good fusion of taste. Here are some things we like:
Good central location in a lovely tropical garden.
Yucatecan chef from Izamal that is very good.
Good prices
Good taste
Classical music in the mornings and jazz/bossa nova in the afternoons.
The Menu at El Jardin Restaurant
The menu is part Mexican food/local and part fusion. It is a healthy menu with good taste and they try to use organic and local when possible.
Each day they have a special menu of the day for only 90 pesos! This is a very good value and even better considering the nice setting. Just imagine a soup, main plate and drink for just 90 pesos! We are not talking basic food either. We have had a fish with almond sauce that was absolutely excellent here and salad with great dressing which was on the menu of the day. Because of the quality of the food, price and atmosphere we feel it is one of the best choices on out "Cheap Eats Guide to Playa Del Carmen".
It is also a great place for breakfast and on our "Best Restaurants in Playa Del Carmen Guide to get Breakfast".
Beers start at 20 pesos, Coffee and milk is organic.
Recommendation
This restaurant makes for a nice tranquil place to start you day or a great lunch spot to take a break from the heat and city. It is just a block and a half off 5th Avenue, so don't be afraid to check it out.
Check out our food photos of just two items. Yummy!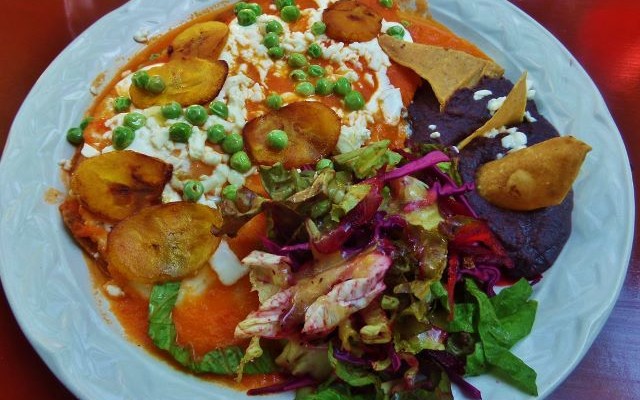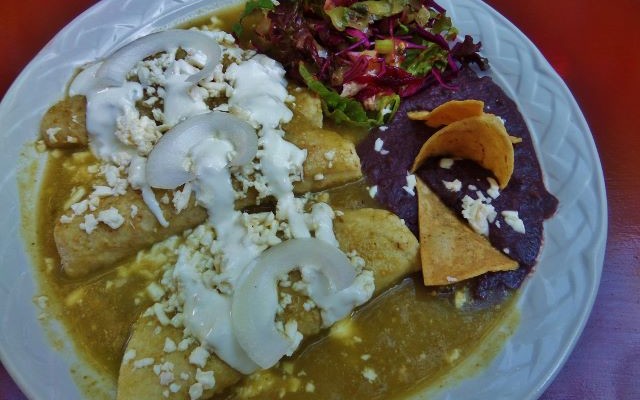 Here is a small video of El Jardin Restaurant to show you a little more about it.
Wednesday evenings at El Jardin Restaurant
Wednesdays at El Jardin Restaurant they will be featuring Karaoke for kids and moms. This weekly event will be from 3:00pm-6:00pm. There will be a dance teacher and a clown acrobat to entertain the kids. There will be a special snack menue for the kids and a wine and cocktails for the parents. The regular menu is also available.
Friday Nights at El Jardin Restaurant
Every Friday evening they offer a dinner show called "Noche de Divas". This is a European style Cabaret show with 4 to 5 different performers, singing in 7 different languages, from Opera to Jazz, from French Chanson to Mexican Boleros. The event runs from 6:00 pm – 10.00 pm and the show starts at 7:00 pm. Entrance is free. A special menu is served with plates from $75.- to $175 pesos.
Event Space of El Jardin
If you are looking for space for an event, they rent this beautiful garden which is centrally located in Playa Del Carmen.
Here are two ways to contact them:
Phone: 984-130-9823
Email: liebepaula@gmail.com
Hours
Monday-Friday 9:00am-5:00pm. Friday nights also has a special event from 6:00pm-9:00pm.
Closed Saturdays and Sundays
Location Map
El Jardin is on 20th Street between 10th Avenue and 15th Avenue. It is on the south side of the street near the middle of the block. Look for the stone wall and black door to the garden space.

Have you been to El Jardin Restaurant? Tell us about it in the comments below.