Disfruta Restaurant-Enjoy this place for breakfast or healthy meal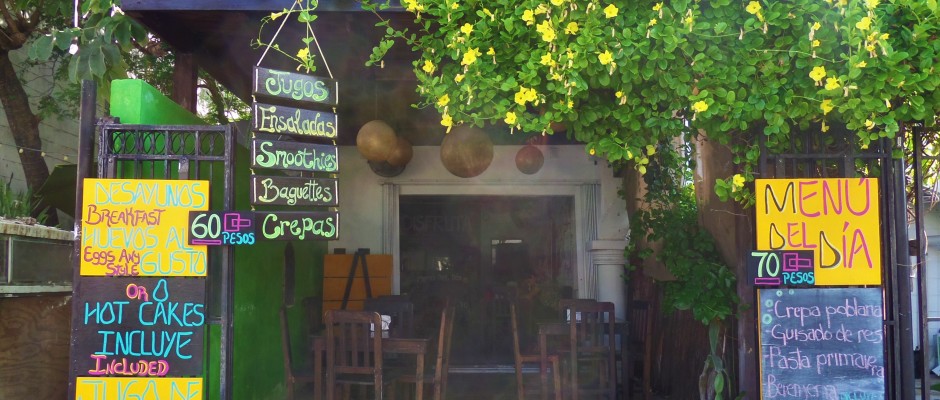 Disfruta Restaurant is a small and colorful neighborhood place for breakfast or a healthy bite to eat during the day. This place is very affordable and serves up good basic food. What it lacks in cuisine it makes up for in price and atmosphere.
There is seating out front on the patio, inside and our favorite, in the small art garden on the side.
The menu for breakfast is good with all the regular items. Look for breakfast combos with juice and coffee and during the day look for "Menu Del Dia" for the specials.
Below is eggs Mexican style with refried beans and potatoes, coffee and juice with a side of whole grain bread.
Below is the mushroom omelet with refried beans and potatoes. They also make some good juices here. Half liters are 25 pesos and liters 35 pesos. In this photo is the Chaya, pineapple and orange juice drink.
*For more restaurant reviews and information see our full Playa Del Carmen Restaurant Guide here.
Recommendations
This neighborhood spot is good to check out if you are staying in the area. It is also on the lower end pricewise for breakfast so if you are looking for a budget option, this would be a good choice.
Note: This is a cash only restaurant
For other breakfast spots in Playa Del Carmen be sure to check out our Breakfast Guide to Playa here.
Hours
Monday-Saturday 8:00am-6:00pm Closed Sundays
Phone number
984-147-7829
Location Map
Disfruta is on 34th Street near the intersection of 25th Avenue. It is on the north side of the street.

Have you been to this restaurant? What did you think? We would love to hear from you in the comment section below.