Dinning on the Rooftop in Playa
The Roof Grill at the Palm Hotel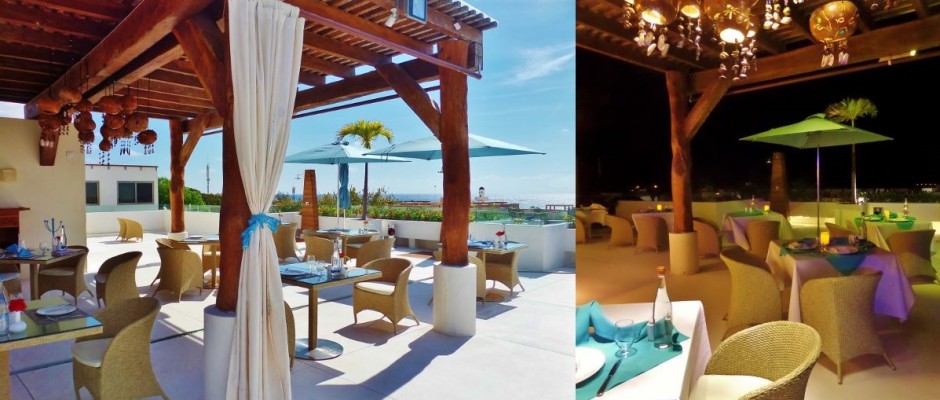 The Palm Hotel has been a favorite view in Playa Del Carmen since they opened. The Roof Club has been open to the public to enjoy the roof top pool and view and now there is the Roof Grill Restaurant that is open to the public. This is not a very well know place and you can take advantage of learning about it here and enjoy a nice dinner with Caribbean breezes all while looking out at the twinkling lights of Cozumel.
Since this restaurant on the roof is open at 6:00pm you can still catch the setting sun over Playa on the backside of the hotel and still look out over the ocean. You can watch the roof top transform into the night like the picture above.
The menu is still evolving but from what we tasted we know it will be a good selection of what we call Caribbean fusion. There were fruit flavors added to traditional taste.  Of course with a name like Roof Grill they do grill meats and vegetables. Here are some samples of what we tasted. This was a tuna with ginger sauce and grilled salmon. Note: The dessert was such a surprise in taste and does not translate in the photo how good it was.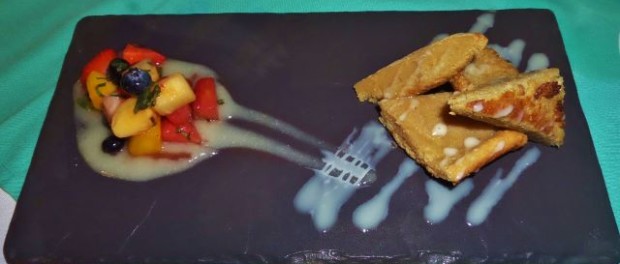 Hours
The Roof Grill is open daily from 6:00pm-10:30pm for dinner.
Location
To go the restaurant, just enter the Palm Hotel entrance on 8th Street and take elevator to the roof.