Diente de Oso-The Place for Hamburgers in Playa Del Carmen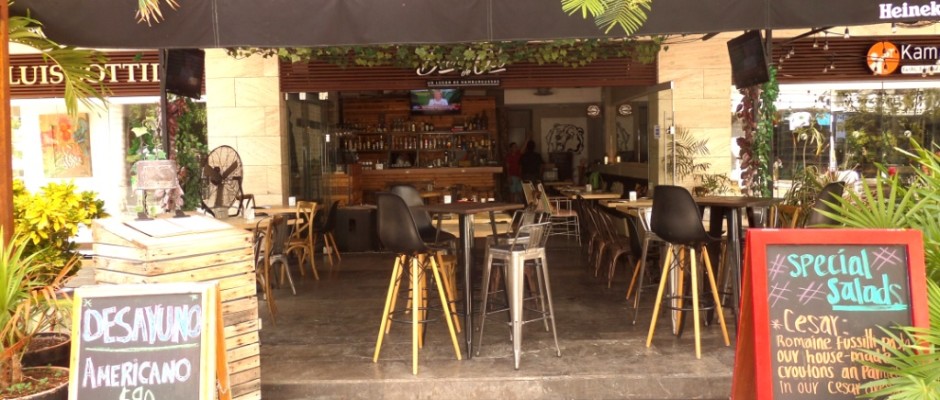 Update December 22, 2015- This restaurant has closed. If they reopen or change locations we will let you know.
When we mention Diente de Oso Restaurant to people, everyone says "Where is that?" It is right on 5th Avenue but because the sign is not really visable you might have walked past this restuarant many times.You should however get to know where it is if you like burgers because they have some of the best.
What type of restaurant is Diente de Oso?
Diente de Oso is a gourmet hamburger restaurant with about 15 different burgers. Burgers are beef, Kobe beef, tuna, chicken, turkey and two vegetarian options. All of the sides are a little more gourmet as well and the atmpshere is trendy. They have sidwalk seating under a awning and inside seating.
They make their own special bread for the burgers and have quality ingredients with a gourmet edge. All of it combined make their burgers very tasty.
Diente de Oso is also a great place for drinks. It is casual and there are good regular specials during the week. For example from 11:00am-3:00pm during lunch they have 2×1 beers. Right now that is only 25 pesos for 2 beers!! That is better then at an Oxxo convenience store. On Thursday nights they have 49 peso cocktails and it is decent quality alcohol, that is good deal too.
Diente de Oso used to be just Hamburgers for lunch and dinner but they now serve breakfast. This location makes for a nice place to sit and eat since it is the shady side of 5th Avenue in the morning and you can people watch. For breakfast they have pancakes, eggs, fresh juice, coffee, fruit, and the famous hamburwaffles.
*For more restaurant reviews and information see our full Playa Del Carmen Restaurant Guide here.
Hours
8:00am-2:00am Monday-Sunday
Location Map
Diente de Oso is on 5th Avenue between 30th Street and 32nd Street. It is on the east side. Look for the small Hamburguesas (hamburgers) sign our front.
Have you been here before? What did you think? Let us know in the comments below. We would love to hear from you.