Cruising to your vacation in Mexico-How to have two vacations in one!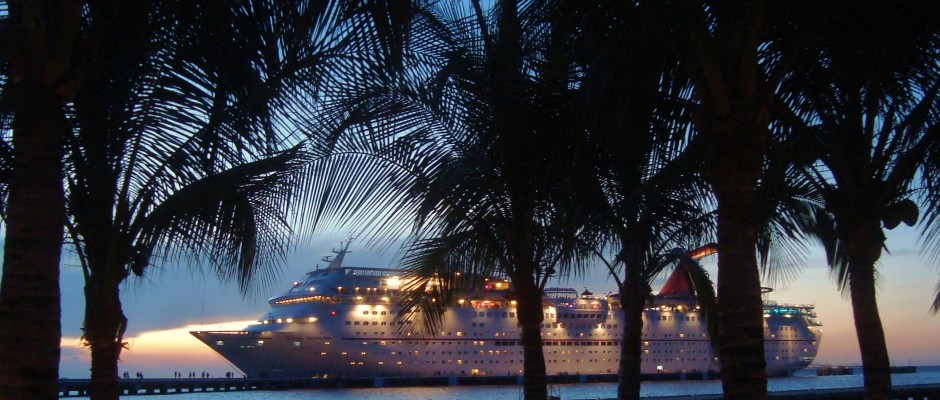 Do you want to make your next trip to Mexico feel like two vacations? Most people fly into Cancun and then fly back home, but there is another option you might not of thought of before. Taking a cruise one way to Mexico and then flying home. How is this possible you ask? Well, this option is not for everyone but certainly is doable and a fun way to add to your vacation.
Taking a Cruise to Mexico
Several cruise lines offer very affordable cruises to the Yucatan Peninsula. For example one cruise line offers a sales price sometimes of $169 USD based on double occupancy and inside cabin for a cruise from Florida to Key West and then on to Cozumel, Mexico. There are other cruises that start in Houston, Texas or New Orleans, Louisiana and goes to Progresso and /or Cozumel. Taking a cruise one way is possible only in the direction leaving the United States (they are not available leaving from Mexico to the United States). It is acceptable to the cruise lines to take you one way, just make sure you tell them you are getting off. They will give you instructions on disembarking and immigration. You will receive a tourist visa just like at the airport and need to give it back when you leave.
Getting off in Cozumel will leave you at the gateway to sun and fun here in Mexico. You can either start your vacation in Cozumel or take the ferry to the mainland for Playa Del Carmen and beyond. There are two separate locations cruise ships dock in Cozumel. One is close to town(San Miguel) and the other is south of San Miguel. If you are docked at the far south pier there are taxis readily available for transport into town and the ferry to the mainland.
If you chose to get off in Progresso, you could start your vacation visiting Merida, Chichen Itza or the Ruta Puuc. With a little planning you could line up how you want to get around on the ground leg of your vacation.
Is there a catch?
What could go wrong? If there is a storm or change of plans for your cruise destinations, you are going to have to change your plans as well. Destinations are not guaranteed except the return port where you got on. This however does not happen often and a look of what the weather is doing before you take off will assure you of your destination.
What are the cost of taking a cruise to Mexico?
Cruises offer low introductory rates to appeal to your budget but will offer many extras that pad the price. For example, alcoholic drinks are usually extra, photos taken by onboard photographers are sold to guest, tips for your stay are added to your bill, land excursions, extra onboard activities, etc. etc. etc. You can keep your budget lower by knowing before you book what is included and what you want to do on your cruise.
Tip: Have a drink in your room or bring your own bottle of wine to dinner.  Most cruises allow two bottles of alcohol per person but will charge a corking fee so you might want twist off caps. This can save you some money on your overall travel expenses.
When to book your cruise
Some cruise lines will let you book one way tickets but only the week before sailing. This would be at an even cheaper price than some sale prices. The prices of some of the cruises are still so affordable that it does not matter you will not be taking the last leg back to the original destination. One way to save money if you booked a round trip is to pay for only the tips for the time you are on the boat (they calculate them on how many days you are on the boat). The customer service on the boat can adjust your charges.
Recommendations
Cruises offer you a relaxing way to come to Mexico. Your floating hotel with entertainment and food will leave you ready for your next vacation on land. This can be a creative way to make your vacation even more interesting and you get to experience a cruise and get to get off and explore more!
Tip: One way flights are easy to get from Cancun
Have you taken a cruise to Mexico? What did you think? Let us know about it in the comments below.