Cosmopolitan and Chic Hotel Cacao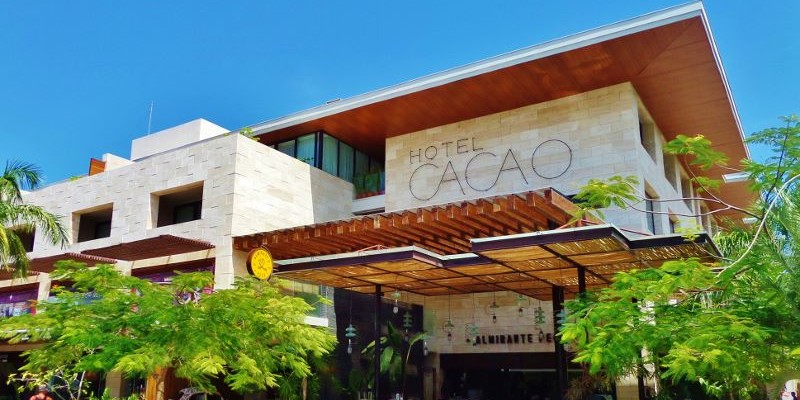 The Hotel Cacao is described as "hippie chic". That means that is it casual but still trendy and chic at the same time. The hotel opened in October 2014 in Playa Del Carmen and has been well received as a destination for discerning guest. This hotel just might convince you to skip the all inclusive and come here. We certainly do recommend this since you get a great quality room just steps off upper 5th Avenue. You have a luxurious rooftop to chill at during the day and evenings and every restaurant available to you in Playa Del Carmen. There is also the excellent Nibs Restaurant on the property if you care to dine there.
Even being steps from 5th Avenue the hotel is a bastion of quiet and relaxation. The central courtyard is designed nicely as well as the building as a whole.
Room Rates at Hotel Cacao
Expect around between $300-500 USD a night depending on season and room. We have seen some amazing prices under $200 USD on Hotels.com. So if you are curious about staying here check out the link on this page to Hotels.com and see what rates are.
The Rooms
There are 60 rooms here in 4 different categories. The rooms are contemporary and spacious feeling. The largest rooms are the master suites and are 108 sq. meters. They have a separate living room area and a terrace with private Jacuzzi.
The Rooftop Bar and Pool
This is where you will be amazed. There is a great view from the roof and an elegance to it as well. The good thing is that this space is available to rent and is open to the public.
To come for the day it is a 1000 pesos per person consumption charge. You can buy well made drinks on the roof and order food to do this. The bar is open from 9:00am -12:00 midnight. Food is served from 12:00 noon until 11:00pm. Drink prices at the roof bar range from 95-170 pesos and the food menu prices range from about 100-200 pesos. There is Wi-Fi for the rood area.
If you want to come just for drinks in the evening and enjoy the setting sun, they welcome people to come for drinks here after 6:00pm. This is a great place to come for pre dinner cocktails.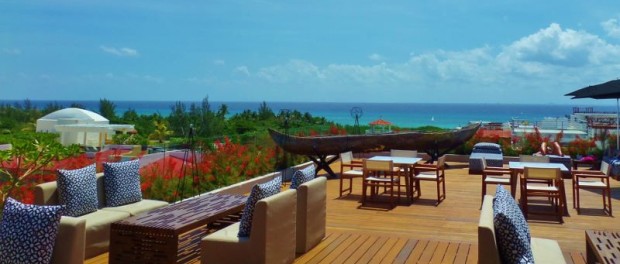 Recommendations
We recommend this to couples or single people looking for style and something from the pages of Condé Nast . Since there is a no child policy until age 15 we don't recommend this to families. You will get a great value here and are on the better half of 5th Avenue. For people that want to go out to eat at the great restaurants in Playa and maybe a night out, this will be much more stylish then an all inclusive. This hotel is also good for people that rent a car since they have free valet parking. You can do some day trips but not too many because you will love the roof top here!
Location
Hotel Cacao is on 5th Avenue but the main entrance is on 1st Avenue near the corner of 32nd St.

Have you been here? What did you think? What is your favorite boutique hotel in Playa? We would love to hear from you in the comment section below.