Food Truck in Paradise-Meet Cocoa Beach Club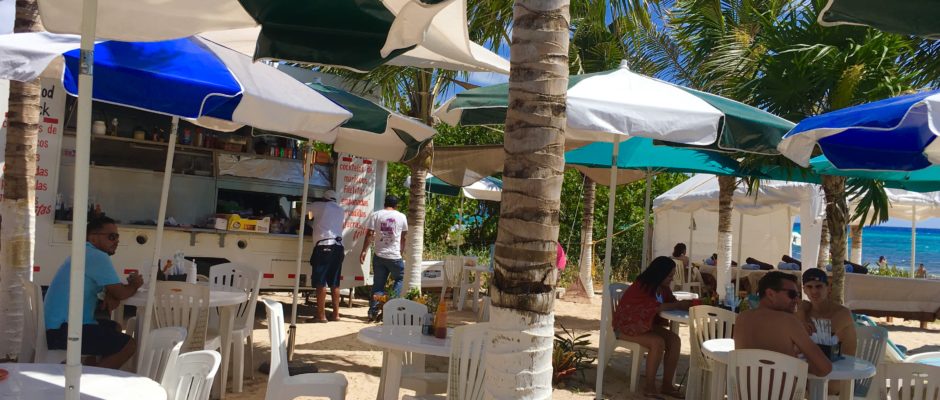 Cocoa Beach Club Food Truck
What is more of a casual food truck in paradise, Cocoa Beach Club is all about the location. At the far end of Playa Del Carmen you can find this stand alone food truck with a dinning experience that is all about the view. Even though this is called a beach club, it is more of a casual place to relax and have some tacos.
Besides the food truck and the 10 plastic tables, there are a few beach chairs and a couple of massage tables. This is not a fancy place, just relaxed with a view of the Caribbean. This can be a good place to visit on a nice sunny day.
Menu at Cocoa Beach Club
The menu is mostly seafood tostadas, tacos and ceviche. Menu prices are average. You wont be getting anything super gourmet here, just honest seafood tostadas and ceviche. It is all about the relaxed atmosphere.
Our recommendation is have a beer or coco with ceviche and enjoy the view.
Hours for Cocoa Beach Club
Open daily from 9:00am-5:00pm.
How to get to Cocoa Beach Club
The map below is not entirely accurate (the marker for Cocoa Beach Club should be closer to the Punta Esmeralda words). Cocoa Beach Club is at Punta Esmeralda. This is just north of the Paradisus Hotel complex. There is a beach access road off of 5th Avenue. At the end of the beach access road there is the street truck.
This is a dead end road. Parking is only allowed on one side. If you see a line of cars already parked, you might want to pull over and park before you get to the end. It often can be full and slow to turn around and make your way back to park.
On the weekends this area is especialy busy since many local families go to the beach here.
Are you a food truck lover? You might want to read our article on StEAT Park food trucks in Playa Del Carmen.
Have you been to Cocoa Beach Club before? What did you think? We would love to hear from you in the comments below.