Cenote Zacil-ha is a Beautiful Place Near Tulum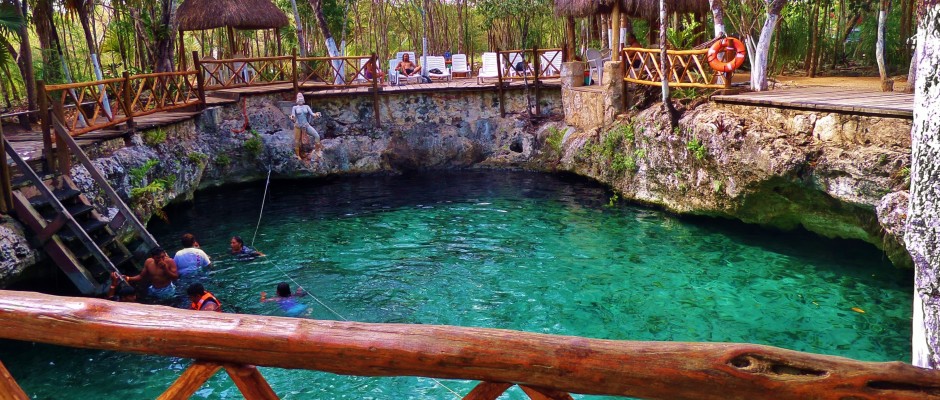 Cenote Zacil-ha
Cenote Zacil-ha (also sometimes spelled Zazil-ha) attracts people with just on photo of the water. The pool like crystal clear light blue waters could make you think they built an inground swimming pool in the middle of the Yucatecan forest. This is not the case though. It is a cool and refreshing cenote that was left here naturally. The water will cool your core body temperature down on those hot days.
It has recently been developed into a more friendly place for people to go and enjoy an afternoon.  We are going to show you some photos now and we bet before you finish reading this you are going to think about going there!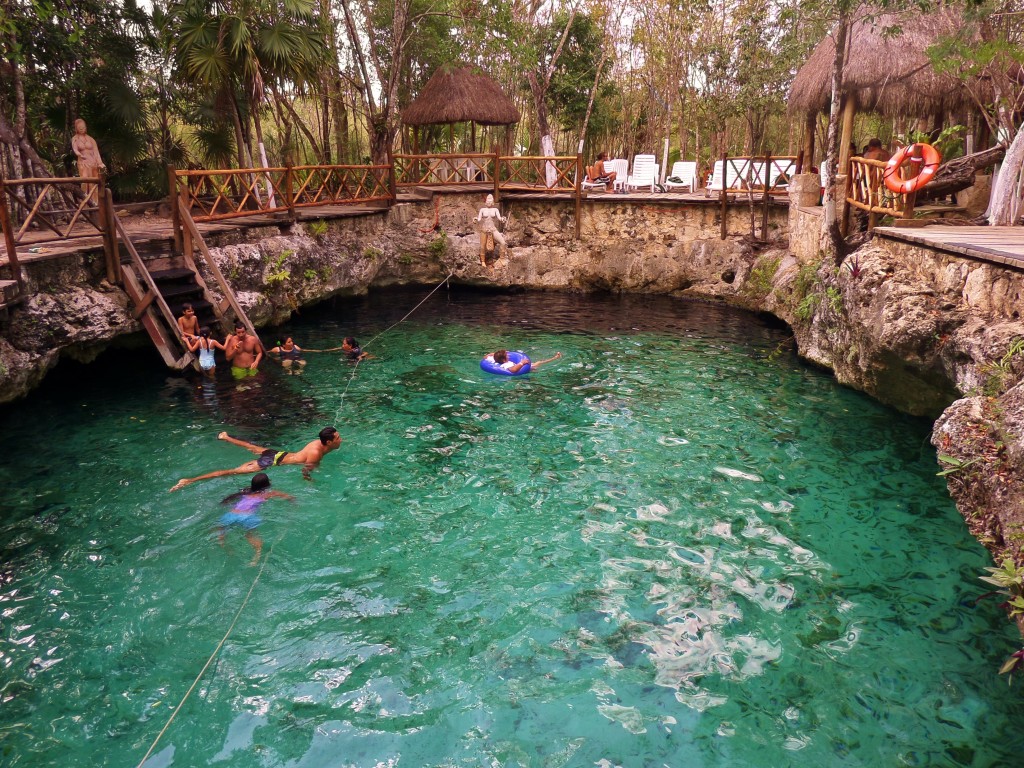 What is nice about this cenote besides the amazing water, is the services. There is a small restaurant, snacks, covered areas and shaded area to relax in, multiple places with varying heights to jump off of into the cenote, bathrooms, changing areas and it looks like eventually there will be cabins you can rent for over night stays. There is a basic zip line that goes across the cenote where you are supposed to jump into the cenote when above it (although we imagine that some would freeze up and not jump and just hang there).
This cenote is about 10 ft. deep and the overall size is not huge, so plan on going when there is not going to be a crowd. That means Sundays are usually a bad time to go as families visit cenotes on that day off.
At the one end of the cenote the water is deep blue. This is actually a cave and this cenote is linked with other cenotes nearby. All part of the amazing Yucatecan eco system. Speaking of eco system, check out the birds here. The one photo above shows lovely blue birds that were fluttering around the cenote. There were hanging birds nest in the trees as well as yellow feathered birds in flight above.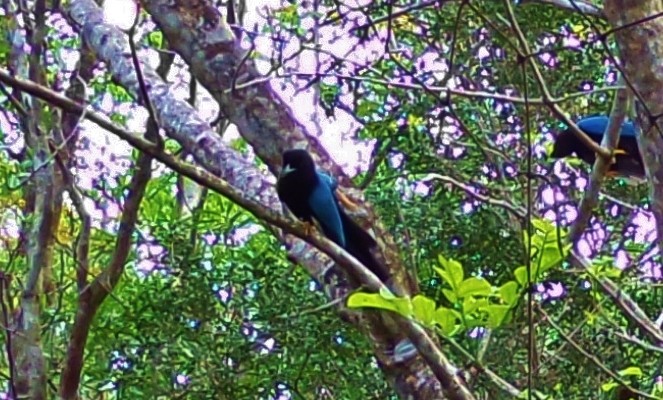 How to get to Cenote Zacil-Ha
From Tulum it is about 8.5 KM toward Coba on the Tulum/Coba road. It will be on your left. Look for this sign. The entrance might have fooled you in the past because it does not look like much. It is just off the highway and there is plenty of parking available. If all the lots are taken you probably don't want to go in anyways because it means there are a lot of people there and the cenote is not that big.
Entrance fee.
It is 80 pesos to get in. If you are a resident with official Tulum ID then you can get a discount. There was no posted price so we hope the price stays the same and is not a sliding scale.
Other information.
Open 9-5 each day. Parties and weddings can be planned here if you like.
Other Cenote information.
Check out our article on visiting cenotes while in the Yucatan Peninsula here. Here is also another cenote in Tulum you can check out that is very different from this one, Cenote Encantado.