Brochetas-Everything taste better on a skewer!
Seafood, Chicken, beef, and vegtables all on a skewer!
Brochetas Restaurant is a delicious place to grab a bite to eat in the center of Playa Del Carmen. We have been wanting to bring you this eatery for some time and got by the other day to take some photos and get all the details.
We stop by here often because it is a great place to get something to eat before going to the beach or take to the beach. Since the Mamitas' Beach area is so popular, many people that are not eating at the beach clubs might want to get something to eat nearby. This is one of the best places and it is close by so you don't loose much beach time.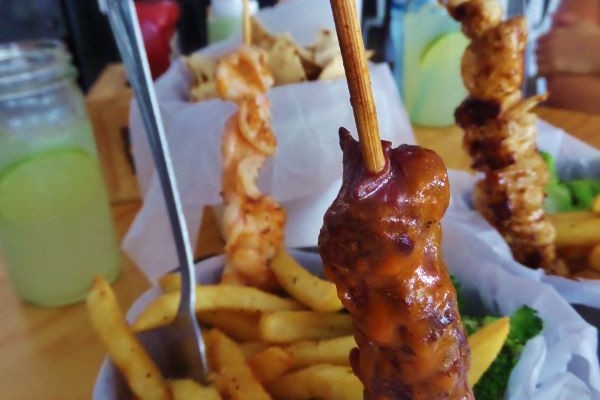 Here is a video we made about Brochetas

Tip: If you eat there, you will get chips and salsas at your table. If you take out you don't get chips but still get little packages of salsas. We love the green cilantro salsa! It has a great taste that is different from other places.
Tip: The staff is super bilingual and is very helpful in telling you about the menu and how it works and making recommendations.
Menu at Brochetas
Brochetas is mainly about things on skewers. This is the most popular thing on the menu but they do have other things and they are expanding their menu to include more. The regular sides is their own specially seasoned french fries or broccoli or a mix of the two. We love this option because you can make it as healthy as you care for and order just the amount of food you want. This makes it perfect for staying in beach shape! You can order as many skewers as you want and mix and match or get a combo. There is a mixture of meats, seafood and vegetarian options for the skewers. All is grilled and they have good sauces and seasoning.
Try to new hamburgers on a skewer to! There are two small ones and they are super tasty! They are so good they are on our Hamburger Guide to Playa Del Carmen!
Prices at Brochetas
Skewers start at 35 pesos each. You can make your own combination or choose on the menu for about 80-90 pesos. Drinks are extra from combos. The prices are very good here it made our Cheap Eats Guide for Playa Del Carmen!
Hours
Brochetas is open Monday to Wednesday from 12:00 noon until 8:00pm. Thursday to Sunday 12:00 noon until 11:00pm.  Note: in low season or in high season the closing hour can be earlier or later.
Location Map
Brochetas is on 28th Street between 1st Avenue and the beach, Mamitas Beach to be exact. It is under the Aldea Thai condo complex and sits back from the street. It is on the south side of the street. You might miss it since it sits back and has covered outdoor seating, but look for it and you will be rewarded with a good meal.

Have you eaten here? Let us know what you think in the comment section below.