Where to find a taste of Britain! Brighton Fish & Chips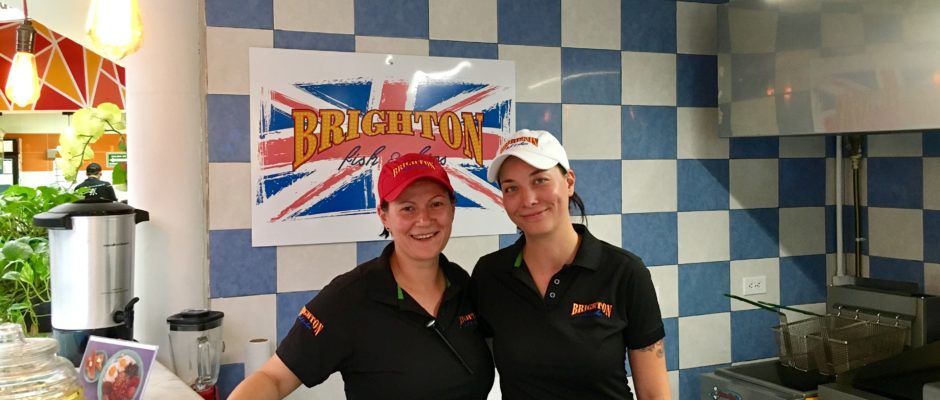 Brighton Fish & Chips
Do you have a hankering for good old fish and chips? Now there is a place in Playa Del Carmen serving up this traditional tasty meal plus other taste of Britain. As far as we know, this is the only place you can get authentic fish and chips in Playa. You can also get mushy peas and full English breakfast!
Just take a look at some of their food. In the first photo you can see their beer battered fish and hand cut chips with tarter sauce and herby pea puree.
This is their ultimate fish sandwich with tarter sauce, side of chips with truffle mayo.
To accompany your meal make sure you try some of the hand made ice teas. The perfect English option to go with your fish and chips.
The menu at Brighton Fish & Chips
There is a breakfast menu and lunch menu served here. It should be noted that their hours are now 11:00am-10:00pm
Facebook Page for Brighton Fish and Chips
For updates and more information you can check out Brighton Fish and Chips Facebook page: https://www.facebook.com/playadelbrighton/
Where is Brighton Fish & Chips
Located on the south end of town in the Mercado Paseo Del Carmen  you can find them. This market is on 10th Avenue near Calle 1 Sur. This is in the Paseo Del Carmen shopping mall on the lower level. If you drive here there are several parking lots nearby for easy parking.
If you would like to read more about restaurants in Playa Del Carmen, see our full guide here.
Have you been to Brighton Fish & Chips? What did you think? Let us know in the comments below. We would love to hear from you.