Try The Friendly Neighborhood Restaurant – Blue Pointe Grill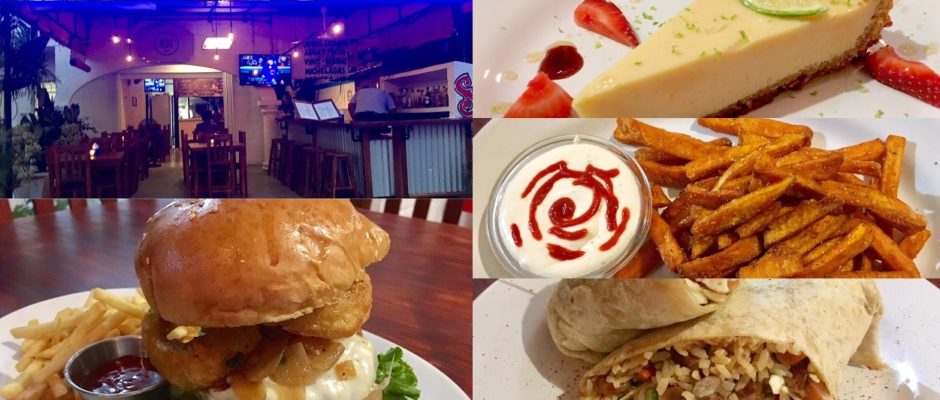 Try The Friendly Neighborhood Restaurant – Blue Pointe Grill
Blue Pointe Grill is a new restaurant on 34th Street that offers the casual favorites. This restaurant is run by an expat couple that has a passion for food and they want to have a good place for people to come and enjoy a meal. Knowing what foods people like, they have designed a menu for casual dining with favorites from both sides of the boarder. Because this couple has a passion for food,  one for the kitchen and the other the bakery, they cover all the menu with items that will not only taste good but also express their love of food.
The atmosphere here is casual with two TVs that can have sports playing. There is outside patio seating or inside seating.  A small bar flanks one side of the outdoor seating area.
This restaurant is good for people that live in the area or are looking for good hamburgers and comfort or casual dinning.  Blue Pointe Grill offers good value for what you get. As we have said many times, it is usually a good sign of a restaurants when the owners are there and they also are passionate about food. We enjoyed our meal here and we hope you can stop in and enjoy a meal here.
The menu at the Blue Pointe Grill
The menu is an American styled food with Mexican twist. Since this owners are from both sides of the boarder, the two food cultures are mixed. They also know that people living in Playa Del Carmen or visiting, might miss some of the taste of home, so they have incorporated some of these in the menu.
The menu features appetizers like there awesome sweet potato fries (see photo below), wings and Caribbean ceviche. There are salads, tacos, hamburgers, burritos, seafood dishes and a steak dish. To top it off they have homemade desserts.
Menu prices at Blue Pointe Grill
Appetizers range from about 30-130 pesos.
Tacos are 25-30 pesos each.
Salads are about 75-145 pesos.
Burgers and Burritos are 105-145 pesos.
Seafood dishes 95-175 pesos.
Steak 250 pesos.
Desserts 45-55 pesos.
Burger aficionados will like the options here. This is why you can find this restaurant on our hamburger guide to Playa Del Carmen.
Location and information of Blue Pointe Grill
The Blue Pointe Grill is on 34th Street right where 25th Avenue intersects it. Parking is available on the street.
Hours
Mondays- Closed
Tuesdays-Thursday 11:00am-11:00pm
Friday-Saturday 11:00am-12:00 midnight.
Sunday 11:00am-10:00pm
Phone Number
984-148-0747
For this and hundreds of other good restaurants in Playa Del Carmen, see our Restaurant Guide here.
Have you been to the Blue Pointe Grill? What did you think? Let us know in the comments below, we would love to hear from you.