Best Beef Tacos and Best Street Food in Playa Del Carmen!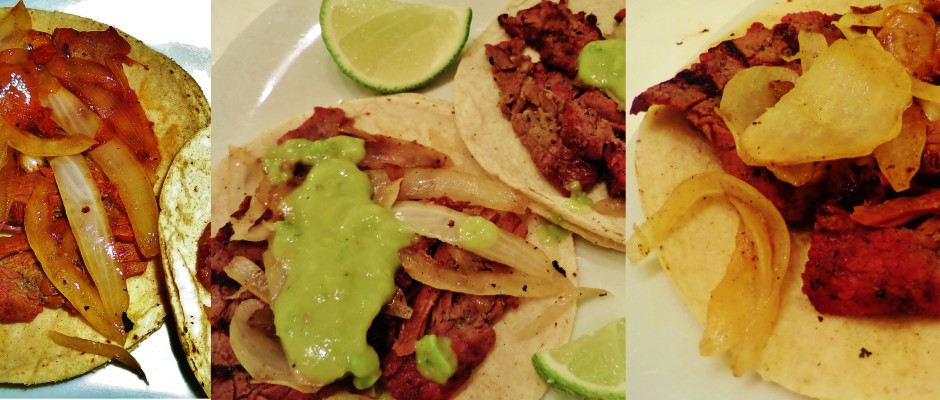 When most people come to Mexico they want some good Mexican food. Tacos are the very essence of Mexican food and finding the best taco is a rewarding experience. We think we have found the best beef taco in Playa Del Carmen and so have a few other people based on how popular this place is. There is always a crowd but the service is always fast. it is easy to say this is the best beef taco place and best street food in Playa Del Carmen.
El Rey Tacos-Best street cart in Playa Del Carmen!
Update April 2016: Unfortunately this taco cart has left the area and we are hoping they return! We will keep you posted if they set up again or in a different location.
El Rey Del Taco (which just happens to translate to "King of the Taco") has created a recipe for the tastiest tacos. What makes these tacos so good? Well lets start with the tortilla. They use corn tortillas of course, it is the proper Mexican way compared with flour tortillas which would just be sacrilegious to use for a taco in Mexico. They heat them on the grill which is a good thing and they double tortilla it. Two corn tortillas per taco. This makes it strong to hold in the goodness and you also have backup incase you spill some food on your plate and want to make another taco out of it. Only the best place would do this traditional two tortilla method. Next comes the meat. The most popular taco is the arrachera which is a cut of beef. It is cut thinly and marinated then grilled when you order.  Everything is fresh made to order and you see it being made right before your eyes. The meat is tender, no gristle and you get large cuts of meat. They grill the meat with the sliced onions which adds to the flavor. Lastly comes the toppings. Usually there are about 6 bowls of condiments you can add to your tacos. There are two salsas one red and one green. Both salsas have a little spice but the red is the one you have to be careful of.  Cut limes are of course there because every good Mexican squeezes the juice on the taco. Pico de Gallo salsa is available which is cut tomato, onion and cilantro. Cooked nopales or nopal cactus are cut up in a bowl for topping your tacos. Then sometimes there are bean in a bowl or some other taco topping.
You can get tacos to go or you can stay and sit in the makeshift seating area. If you ask for your tacos to go the woman on the end will ask what condiments you want and will bag them up for you and add them to your bag of tacos. If you stay and eat there you can top your own tacos. They have hand sanitizer to clean your hands.
These tacos are filling with the two tortillas and big beef slices (if you get the arranchera). Did we mention the tacos are only 12 pesos each!! They also have drinks there. Sodas and also some more traditional drinks like tamarindo water, horchata or jamaica water.
Some people might shy away from street food but you will sure be missing out on this one. Due to the fact they are such a busy place it means the food rotates through pretty fast and since it is so popular it tells you that people like coming back because it is good.
Hours
Open Monday-Saturday 4pm-12 midnight
Where
Located on 14 Bis street(which is like 14 1/2 street) with the intersection of 30th Avenue. It is right between Mega and Aki supermarkets on the street. Look for the cart, see the grill smoke and happy people.