Balche Playa Vegetarian Restaurant and Store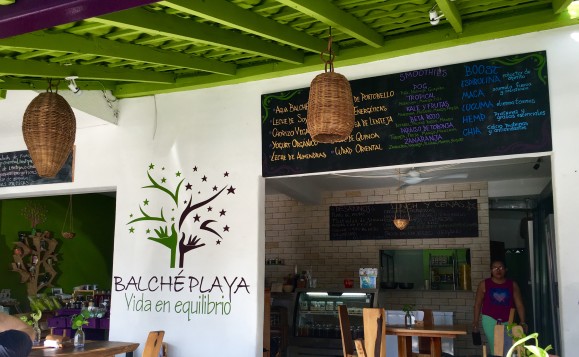 Note: This restaurant is currently closed. We will let you know if it reopens in another location. Here is another vegetarian and healthy food restaurant. Balche Playa is a vegetarian restaurant and at this location there is a small organic store.
Balche Playa Restaurant and Store
Balche Playa serves just vegetarian food and has been doing it for a little time now so they must be doing things right. They have the main restaurant on 10th Street.
The restaurant sits on a side street that is a little less busy and you can relax on the porch and have a meal. The location is also good because they are across from Yoga Loft and offers a healthy eating option for people that go to yoga.
Organic Store
The store here is smaller then other health and vegan stores in Playa but has a small selection of goods. They have things like organic honey, stevia, moringa, and agave and coconut products.
Menu and Prices at Balche Playa
Everything is vegetarian here and almost everything is 95 pesos. There are about 18 options for a meal here. For drinks they have smoothies which are 60 pesos for 16 oz. and 85 pesos for 27 oz. Their specialty of the house for drinks is their hibiscus tea drink with ginger, star anise, cinnamon, stevia, sugar on the raw, lemon tree leaves and maca. This drink is deep purple and called Balche. It is a nice infusion of the flavors. A glass is 40 pesos and a liter is 60 pesos.
Below are photos of two menu items.
After you finish eating they will bring you the dessert tray. Below is the sampling of what they have.
If you like vegetarian, vegan or just plain healthy eating see our complete guide to Playa Del Carmen here.
Our Video
Our Recommendations
This is a quality vegetarian restaurant that sticks to it's principals. Since it is a little specialty it is more expensive. Expect to spend about 150 pesos a person for a meal. The porch is a nice place to eat and relax. Overall expect a nice experience here with fresh food.
Hours
Monday-Friday 8:00am-11:00pm Saturday and Sunday 9:30am-11:00pm.
Where is Balche Playa Restaurant?
The restaurant and store are on 10th Street between 10th Avenue and 15th Avenue. It is right across from Yoga Loft.

Have you been to Balche Playa Restaurant? What did you think? We would love to hear your comments below.