ArtHumus is not just a restaurant/winebar/organic market/cafe. It is more!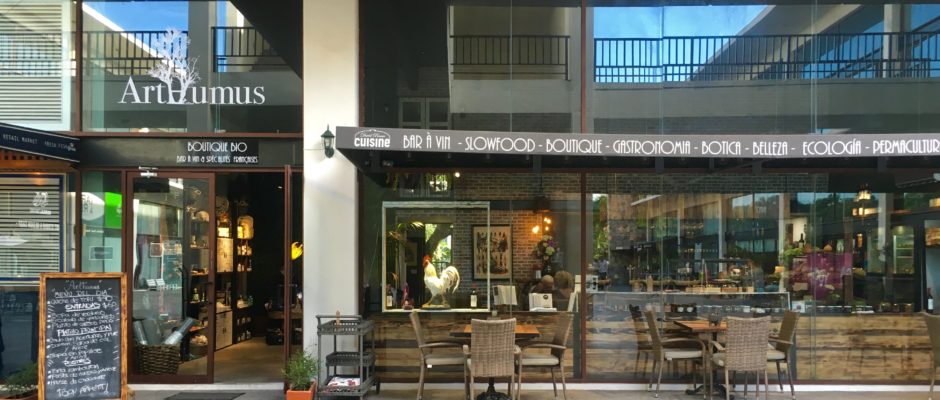 Welcome to ArtHumus
ArtHumus Restaurant (plus more) is a new and welcome addition to Playa Del Carmen. It is a concept of the husband and wife team of David and Ana Paula. They brought their passions of sustainability, healthy food, French cuisine, slow food cooking and love of sharing with like minded people to Playa. They moved from France because they liked the area and now want to be an integral part of the community.
ArtHumus is not just a restaurant. It is a wine bar, café, art space, organic market for both food and items, plus just an overall nice place to come and enjoy the experience. Here is more about all aspects of ArtHumus.
The space and atmosphere
There are four areas of ArtHumus where you can dine. There is the front and back patio where you can dine al fresco. Inside the café there are a few tables in front of the wine bar. Also there is a back room which is a comfortable space with books and library feel.
The menu at ArtHumus
The menu consist of a few principles:
French flare and European taste.
Organic ingredients.
Slow food, meaning everything is cooked at the time of you ordering it. Nothing is coming out of a package with preservatives.
Vegan and vegetarian options. Because this restaurant offers a good selection of healthy and vegetarian options, we also have them on our Vegetarian Guide for Playa Del Carmen.
Set menu and menu of the day. They do this to offer seasonal items and create unique dishes with what they have so there is little waste.
All three meals a day are available.
Menu prices at ArtHumus
Breakfast items range from about 35-135 pesos.
Lunch prices range from about 90-150 pesos.
Appetizers range from about 30-80 pesos.
Dinner plates range from about 75-185 pesos.
Desserts are very affordable here, so don't skip it (plus delicious) 35-45 pesos.
Glasses of wine range from about 75-130 pesos.
Salmon with cabbage sauce and rice.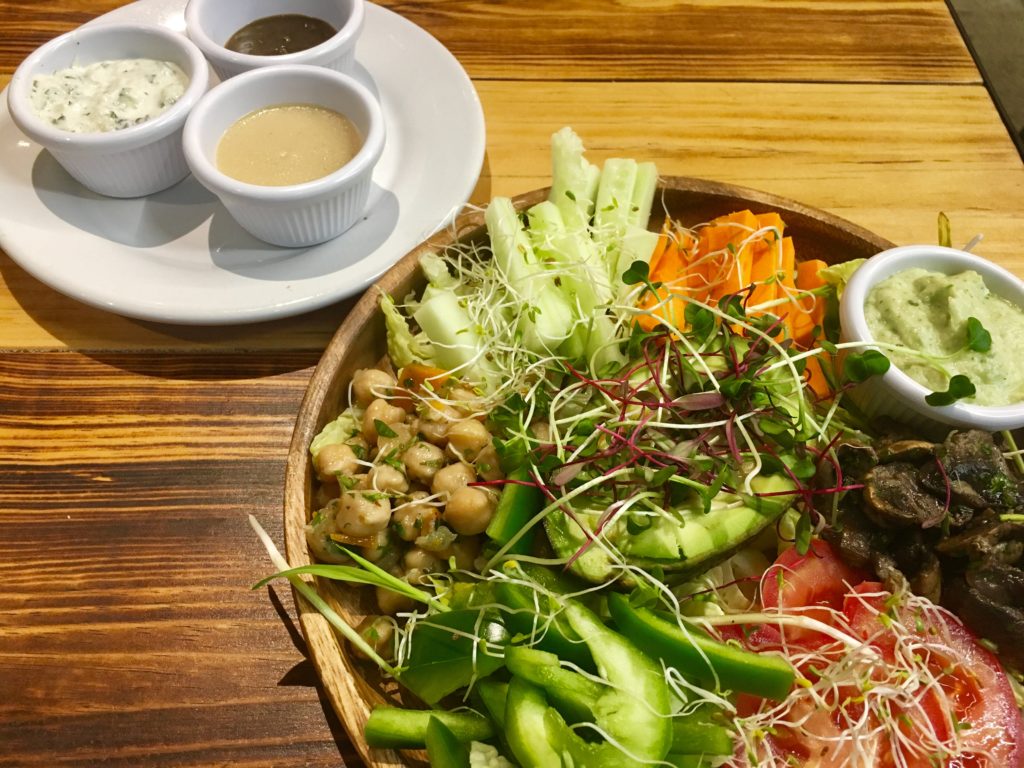 This is one of their vegetable plates. It comes with three sauces plus their house sauce.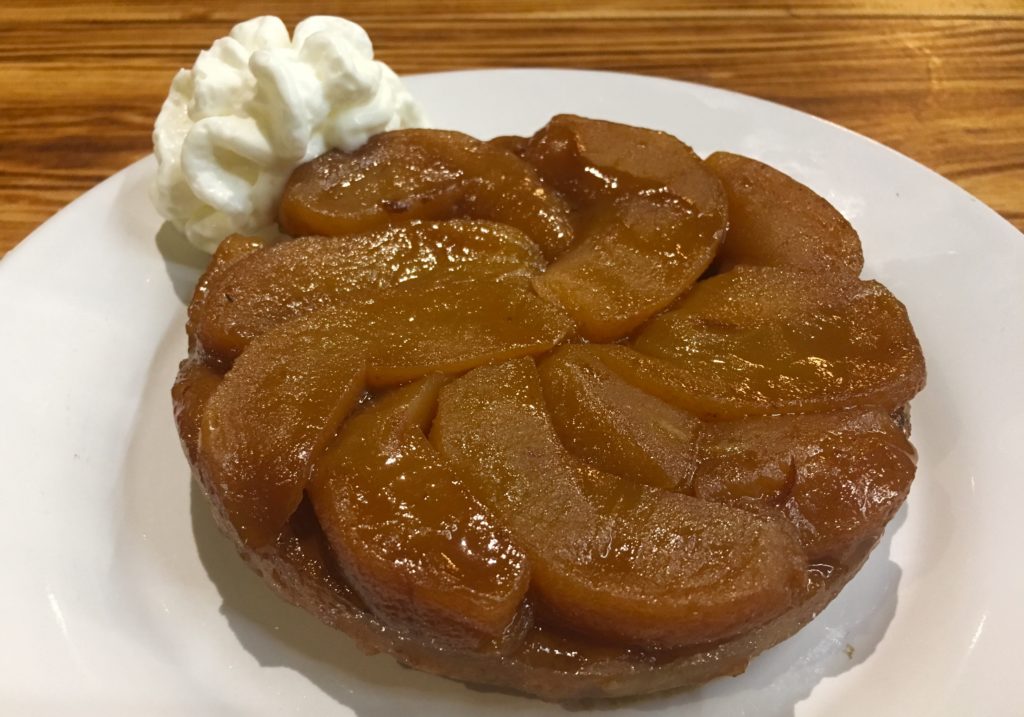 This was a delicious apple tart.
Wine Bar
ArtHumus is a place you can come and enjoy some wines. Organic wines are their specialty. They have many organic wines they import from France.  You can also find wines from Spain, Australia, California, and Argentina.
ArtHumus makes for a good place to go have a glass of wine because of the quieter setting and the many small plates you can accompany your wine with. There are actually few places in Playa Del Carmen where you can just go and enjoy some wine. Since they have this nice selection of wine and the bar, we are adding them to the Bar Guide for Playa Del Carmen.
Organic store and organic produce market
In the same space is a small organic food market. They also carry organic products for health and household cleaning.
Hours
Tuesday to Saturday 10:00am-10:00pm ish. Depending on how many people there are. They can close later.
Sundays 2:00pm-10:00pm.
Closed Mondays
Where is ArtHumus Restaurant?
ArtHumus is on Avenue Aviacion on the south side of the airport. It is in the same plaza as Casa Sofia Restaurant. ArtHumus is on the backside.
For restaurants like this and more, see our Restaurant Guide for Playa Del Carmen.
Have you been to ArtHumus before? What did you think? Let us know in the comments below.