Paddle Boarding with the Aloha Paddle Club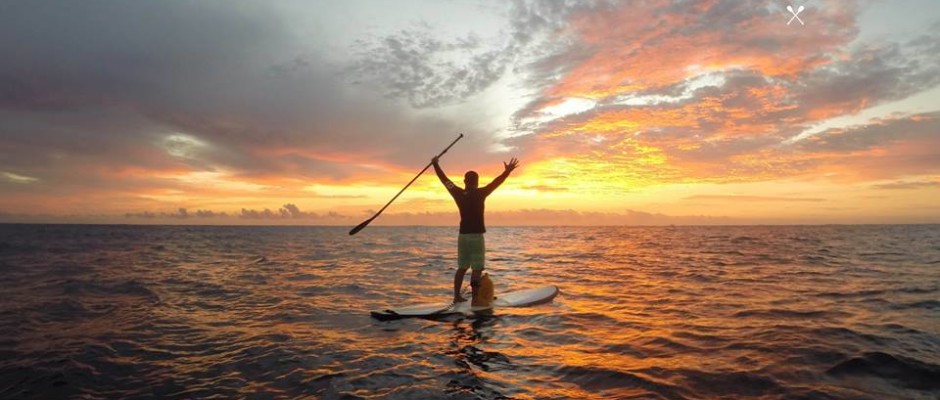 Aloha Paddle Club started in 2015 by two guys that liked stand up paddle boarding. They decided to form a club so friends and paddle board enthusiast could go out on the ocean and enjoy this sport without having to buy the equipment.
Aloha Paddle Club
Note: Aloha Paddle Club also does tours to Tulum and Puerto Aventuras and do things like SUP yoga. Contact them for details.
Paddle boarding is a great way to get out on the ocean and get a different perspective on Playa Del Carmen and this is a very affordable activity to do.
This is also a great total body workout, excellent for balance and you really work your core. This activity is for all ages.  For first time people, instruction is given on how to use the boards. All levels of people go out with the group and you can kneel or stand depending on how comfortable you feel.
How much does it cost to go paddle boarding with Aloha?
Non-members locals can go out for the first time for 300 pesos for the first class including a lesson. After the first time it is 200 pesos. If you want to join it is a 500 peso membership fee and 100 pesos each time you go out.
If you are a tourist it is 400 pesos to go out.
What times does Aloha Paddle Club go out?
They go out three times a day. Once at 6:30am, this is for early birds and for those that like to catch the sunrise. At 7:45am and then in the evening at around 5:00pm.
This is weather dependent but they go out almost every day. Less so in the winter when the ocean is rougher.
What to bring to SUP
You should bring as little as possible and you don't really need that much. A bathing suit is perfect and a cover-up if you want something a little more covering. No shoes are necessary on the boards and be sure not to have things that can fall off like sunglasses. If you wear sandals you can tie them on the board.
You can leave some things at the pickup point for the boards and for small things like keys and money, the person taking out the group will have a wet bag where you can store things. The bag will be out on the water with the group and nothing is left on the beach. If you are going to be doing this often, investing in a small waterproof bag is a good idea.
Of course if someone comes with you to take photos of you from the beach you can leave things with them.
Photos of your paddle boarding
Aloha tries to take out a GoPro camera each time and snap pictures of the day and post them on their Facebook page. You can always take out a waterproof camera with you to capture the fun.
How to make a reservation with Aloha Paddle Club
Since there is limited amounts of boards a reservation is needed. If you are not a member you will need to contact them on their page. For members you can make a reservation through the WhatsApp number.
Contact information:
Website: Aloha Paddle Club
Facebook Page: Aloha Paddle Club
Email: info@alohapaddleclub.com
WhatsApp number: 01 984 164 1971
Where do they go out from?
They take off on the beach between 4th Street and 6th Street.
Have you been out with Aloha Paddle Club? How was it? Let us know in the comment s below.