Afrodisiako-One of Playa Del Carmen's Best Restaurants!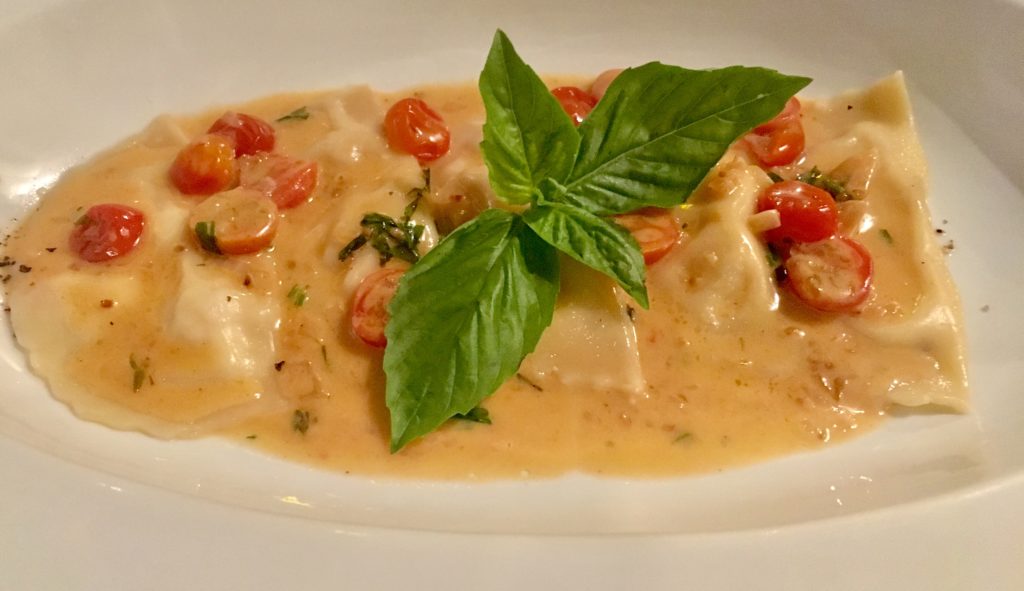 First let us tell you about finding great restaurants in Playa Del Carmen and why we think this is one of the best restaurants for you to try.
Many people look for a list of best restaurants for a destination so they can try some of them while on vacation. This can be hard because list can be only well known restaurants or are promoted places. Some list are based on reviews and sometimes this becomes a popularity contest for who can get the most reviews or have friends put up reviews.
Inside secret: If you are staying at a hotel or resort in the Riviera Maya or in Playa Del Carmen and ask for a restaurant recommendation, the concierge 99% of the time will recommend well known restaurants that pay commissions. Yes, the concierge will make about 10% of your check. That is why they are so helpful and even call and make the reservations for you. Restaurants in turn raise the prices to cover cost. In the end you can have a nice dinner but you might just be missing out on that restaurant that puts so much care into their menu and does not raise their prices or pays off concierges to send them people. They work hard and let word of mouth carry their reputation.
So how do you know what is a good restaurant? Well, reviews can be good a good start. We would like to think we know Playa Del Carmen and it's restaurants. We have over 250 restaurants and eateries on our website and we have eaten at all of them! Our measure of standard is even across the board and not just a review of a first time visitor to Mexico thinking that a tourist trap on 5th Avenue is the best Mexican food they ever had.
We base restaurants in comparison to other restaurants here in Playa Del Carmen. Some restaurants are that are a "small whole in the wall" are great and not just the most expensive restaurants are good. Some expensive restaurants are just over priced and some inexpensive restaurants cannot afford to give the best quality meal because good ingredients cost money.
Afrodisiako Restaurant
So it is with great pleasure to find an excellent restaurant to share with you and it is why we took the time to explain how the restaurant scene works in the Riviera Maya. Afrodisiako Restaurant has been on our list to try for some time and we finally got there. We hope you like this review and information and get a chance to dine with them.
Tip: This restaurant is also on our list of places to get good cocktails in Playa Del Carmen.
Below is a video we made with an interview with one of the owners and chef of Afrodisiako Restaurant.
History of Afrodisiako Restaurant
This restaurant opened July 2013 and opened as a coffee shop. This is part of the confusion about this place since many people still think this restaurant is just a coffee café. We also passed by this place many times and thought it was just for drinks. The sign also fools people because it says "Coffee Drinks Love". So just to set it straight, they serve breakfast lunch and dinner here.
Patricia is an owner and also one of the chefs. Her European background, travels to Italy and now living in the Caribbean have influenced her food stylings. Patricia is part of the culinary team along with another chef. Both of them are extremely talented in the kitchen and love serving delicious dishes.
What makes this one of the best restaurants in Playa Del Carmen?
Afrodisiako Restaurant is great because:
It is a boutique restaurant. The restaurant is small and focused on a great meal for guest.
It a fusion of Mediterranean, Italian and Mexican cuisine and it is the personal creations of the chefs.
All pasta is homemade.
The food is delicious with complex flavors.
Ingredients are all hand selected and organic. Products not found locally are imported and they don't skimp on quality.
Hand selected wine list and quality drinks.
Good value for plates. For the same price at other restaurants you are getting a lot less quality. This same quality restaurant in other countries would be much more expensive so you are getting a good value here.
They have a nice breakfast. They also have a lunch special each day.
Charming setting on a tree lined side street.
Staff is very knowledgable about the menu.
The new menu at Afrodisiako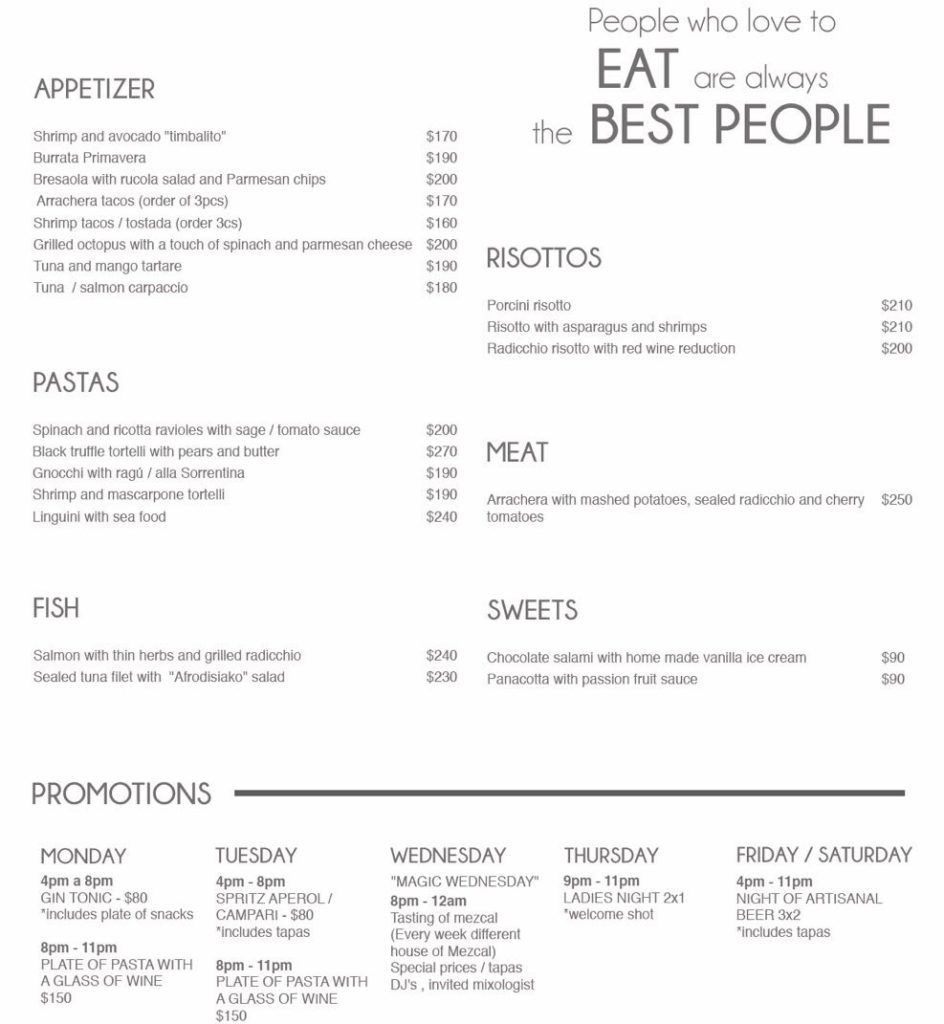 The restaurant setting
This small restaurant offers intimate  seating in an open and airy porch area. It is on a quiet side street just off 5th Avenue. There is limited seating so reservations during busy seasons is recommended.
Menu Prices at Afrodisiako
Breakfast  items range from 60 pesos-100 pesos. Lunch and dinner entrées range from 150 pesos-360 pesos.
Most cocktails are 160 pesos. Wine is sold by glass or bottle. The wine selection is hand selected and features many Italian wines. You can be guaranteed that you are getting quality wines that will compliment your meal. Prices for a glass start at 90 pesos and bottles start at 490 pesos.
Desserts are about 80-90 pesos and can be a seasonal selection. From the simple pleasures of a creamy tapioca with fresh fruit, lemon mousse or Melon and mint sorbet, you can be assured they will have something perfect to end your dinning experience.
*Note this is a cash only restaurant.
Phone number
We recommend you make reservations especially for dinner. You can call or email. English is spoken.
+52-1-984-147-1486
afrodisiakoplaya@gmail.com
Hours
Monday-Saturday 7:00am-11:00pm Closed Sundays.
Location
Afrodisiako Restaurant is located on 26th Street between 5th Avenue and 10th Avenue. It is in the middle on the block.
For more restaurant reviews and information see our full Playa Del Carmen Restaurant Guide here.
Have you been to this restaurant? What did you think? We would love to hear from you in the comments below.