14 good reasons to eat at Fonda Regina Restaurant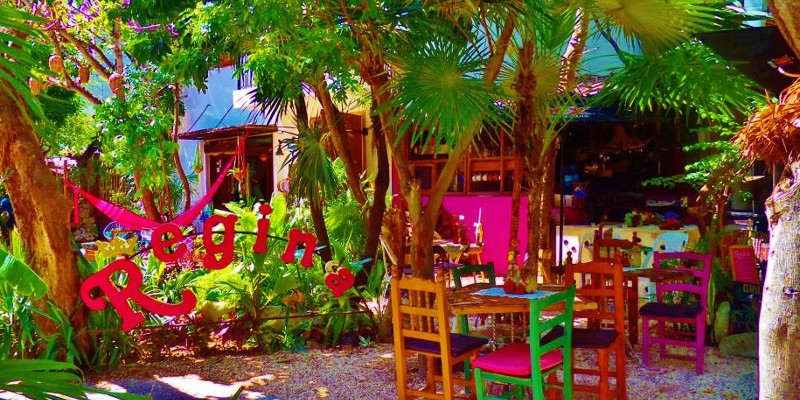 Update: March 2016 Fonda Regina is not closed. It is supposed to open in a new location but we do not have details as of yet. We will keep you posted.
Fonda Regina is a colorful and local restaurant on the north end of downtown Playa Del Carmen. At first look this restaurant looks cute and a nice place to eat. Once you look over the menu you notice the prices are pretty reasonable too (breakfast plates range from about 60-80 pesos). But once you get to know what care they put into the food you just might be sold. See the list below.
Breakfast at Fonda Regina is described at healthy, organic with some Mexican and traditional dishes. Lunches are fresh with seafood and fish caught from local fisherman. For dinner time they use the grill for many items.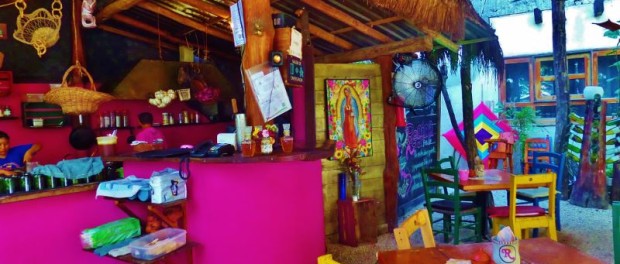 Now for the 14 good reasons to like Regina Fonda
They use organic eggs and chicken.
For breakfast they serve handmade tortilla! They always taste better the machine made tortillas.
The tortilla chips that are served on the table are cooked in coconut oil, not vegetable oil.
Food is seasoned with sea salt only.
There chefs are from Chiapas Mexico.
The ham and cheeses are 100% artisanal used in the restaurant.
They grind their own flour and mix it with different grains for their pancakes.
They only use coconut oils and special olive oils for cooking, no commercial oils are used.
The sauces and recipes are from the owners Mexican grandmother.
The use locally roasted Mexican coffee.
The honey they use comes from their farm in Tulum.
They get their meats from Torreon, Mexico.
They source their fruits and vegetables from Michoacán, Mexico.
They only serve Mexican wines.
Now that you know about the care they put into the food we are sure things will taste even better to you and you will enjoy this colorful local restaurant.
After you eat here you might like to try some other great restaurants for breakfast. See our guide to the best places for breakfast in Playa Del Carmen.
Hours
Monday-Sunday 8:00am-10:00pm
Location
Fonda Regina is on 38th Street between 5th Avenue and the beach on the south side of the street.

Have you eaten here? What did you have? Let us know in the comments below.